劉康捷設宴 歡迎馮淑娟代表到任
2016-02-26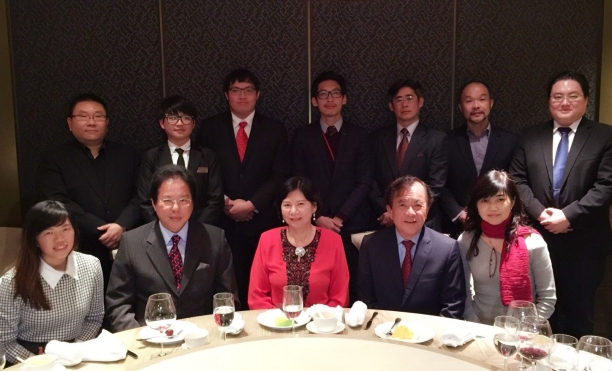 拿督劉康捷理事長 (左二) 與馬來西亞友誼及貿易中心代表拿督馮淑娟女士 (中間) 及大馬旅台同學會蔡振輝總會長 (後排左二) 等合影

本會理事長拿督劉康捷於2月24日,在台北世貿聯誼社設宴熱烈歡迎馬來西亞友誼及貿易中心新任代表拿督馮淑娟女士到任。馬來西亞旅台學生會總會長蔡振輝及副會長馬乙倩也被邀請出席。
拿督馮淑娟十分關心大馬僑民在台灣的生活狀況,祝願大家無論求學或經商,都順利平安。
劉康捷表示,近年來,馬來西亞友誼及貿易中心與大馬商業及工業協會及大馬旅台同學會兩大民間組織同心協力,共同照護旅台大馬同胞,建立了關懷互動機制,讓大馬人在異鄉有所依靠。他也強調,大馬商業及工業協會將持續發揮功能,與駐台代表處緊密合作,並促進更多馬台經貿文化交流。
Datuk James K.C. Lau, the President of MayCham, hosted a welcome dinner at the Taipei World Trade Center on Feb 24th, 2016 in honor of YB Datuk Adeline Leong on her new role as the President of Malaysian Friendship and Trade Centre in Taiwan. Dominic Chai, the President of MSAIT and its Vice President Bee Yi Chiann were also invited as guests.
Datuk Adeline Leong expressed her kind concern on the living situation of Malaysians in Taiwan, and sincerely wishes safety and wellness to her fellow Malaysians who work and study here.

Datuk James K.C. Lau mentioned that over the recent years, through the seamless cooperation between MFTC and the two leading Malaysian organizations – MayCham and MSAIT, an interactive dialogue has been successfully established in offering care and assistance to support the Malaysians in Taiwan. He also stressed that MayCham is committed to collaborate closely with MFTC to further promote the bilateral cultural and trade exchanges between Malaysia and Taiwan.