張慶信劉康捷拜會經濟部卓政務次長
2015-09-21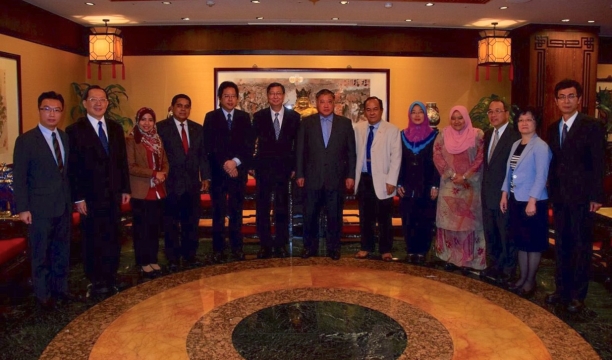 圖說: 大馬國會議員 YB. Datuk Aaron (左四)、本會理事長劉康捷 (左五)、 經濟部卓士昭政務次長 (左六)
馬來西亞首相對東亞特使拿督斯里張慶信 (左七)、大馬國會議員 YB. Datuk Marcus (右六)
馬台各具優勢 應加強合作
馬來西亞商業及工業協會理事長劉康捷於9月9日陪同馬來西亞首相對東亞特使拿督斯里張慶信太平局紳一行,前往拜會中華民國經濟部,卓士昭政務次長在會面中強調,馬台雙邊工商經貿關係穩固,並且各具優勢條件,未來可就投資、貿易、技術等各方面,進行更多的合作與交流。

劉理事長則表示,Maycham 必將持續擔任工商及經貿的橋樑,協助馬台企業共同掌握合作商機。

同行者包括兩位大馬國會議員及駐台大馬經濟友誼及文化中心官員,雙方會談過程十分融洽,同時也對幾項當前經貿議題作出深入的意見交換。
劉康捷理事長與經濟部卓士昭政務次長會後合影
On September 9th, 2015, Mr. James K.C. Lau, the President of Malaysian Chamber of Commerce and Industry in Taipei (MayCham) accompanied Malaysian Prime Minister's Special Envoy to East Asia Datuk Seri Tiong King Sing and his delegation to visit the ROC Ministry of Economic Affairs. During the meeting, Mr. Shih-Chao Cho, Deputy Minister of MOE stressed that the stable trade relations between Malaysia and Taiwan coupled with their own merits should enhance multi-level investments, trading and technical collaboration between the two nations in the future.

President James K.C. Lau also emphasized that MayCham will continue its role as a platform for trade and commerce between Malaysia and Taiwan and provide support for enterprises in identifying business opportunities.

The delegation included two Malaysian Parliamentary members and officials from Malaysian Friendship and Trade Centre in Taiwan. Members from all parties were having an amicable discussion and exchanged in-depth views on a few current economic topics.