劉康捷蟬聯 MayCham 理事長
2015-09-21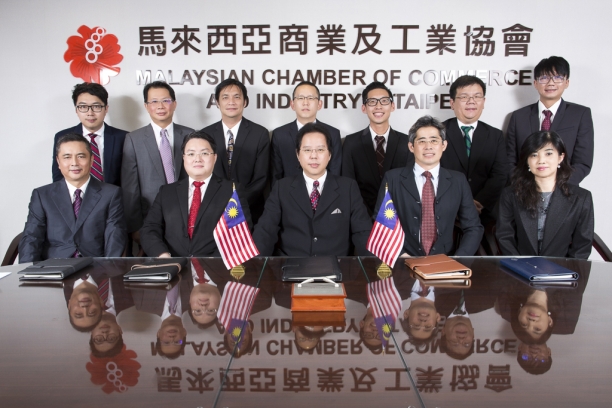 劉康捷 (前中) 獲選馬來西亞商業及工業協會理事長後,與第四屆理事成員合影
大馬在台最具代表性組織之一的馬來西亞商業及工業協會 (MayCham) 日前舉行第四屆理監事改選,劉康捷再度獲得一致推舉,蟬聯理事長。
劉康捷在當選後表示,協會將持續為促進馬台商業及経貿交流和鞏固友誼作出貢獻,並致力於大馬人才的栽培與接軌。
馬來西亞商業及工業協會近年表現相當活躍,曾舉辦多項商務交流和精彩活動,獲得十分熱烈的迴響。另一方面,也在重大事件中扮演協調的角色,如八仙樂園粉塵爆炸事件後及時為受傷的大馬學生提供各種立即資源及持續照護,深受旅台大馬人與馬台各界的高度肯定。
劉康捷強調,未來會務依然會朝三大方向努力。第一項重任,是持續促進接近二萬旅台大馬人的交流團結,讓彼此相互扶持,提供生活安全、求學或就業協助;此外, 將繼續為馬台之間的工商投資,経貿與文化作出貢獻,並適時提出建言;第三,舉辦更多創造性的活動,培養更多大馬人才,共同為國家未來發展注入新動力。
加強促進馬台交流
針對大時局的紛擾與經濟局勢的動盪,劉康捷認為議論之餘,仍應該有所作為,尤其是身為具有功能性的組織,加強工作與耕耘,正是當務之急。例如促進馬台雙邊投資、貿易、旅遊、技術合作、學術交流….都是可以立即行動,並且可以快速產生正面效應的作法。
他也認為,「台灣企業對於大馬的經商和投資環境,依然保有信心。」
馬來西亞商業及工業協會成立以來,在凝聚旅台大馬人向心力方面,付出極大的努力,如: 工作就業博覽會,馬來西亞之夜,文化藝術節和青年領袖交流會等在協會支持之下,至今已成為大馬人的重要盛會,大馬國內也紛紛組團參與,成了國內外資訊和情感聯結的一大平台。
左起: 陳勇宗、陳樂強、魏佳聖、劉康捷、林森泰、余錦豪、黃翊洋、李霖松、古蘭花 、錢家龍、謝俊立、黎仿軒
相關新聞報導:
http://news.sinchew.com.my/node/440093?tid=1#sthash.9uWbZzmZ.dpuf
http://www.nanyang.com/node/719443?tid=460
http://www.chinapress.com.my/node/649179
As one of the most recognized Malaysian organizations in Taiwan, Malaysian Chamber of Commerce and Industry in Taipei (MayCham) recently held its fourth Presidential and committee election. Mr. James K.C. Lau was unanimously re-elected as the President to lead the Chamber forward in the years to come.

President Lau promised that MayCham will continue its efforts to promote bilateral trade between Malaysia and Taiwan, further strengthen the friendship between the two countries and also cultivate and foster Malaysian talents to contribute to the increasing demands of our country.

MayCham has been rather active in recent years and it has already organized numerous highly recognized events and meaningful activities. On the other hand, MayCham also played a major role in providing extensive resources and urgent aid on certain critical occasions. The latest instance is to render immediate and well-organized assistance for the two Malaysian students who were seriously injured in the recent explosion incident at the Taiwan Formosa Water Park.

Despite the prevailing economic downturn, President Lau reiterated that a functional organization like MayCham can still endeavor to strengthen its three core objectives of providing a platform and assistance for nearly 20,000 Malaysians in Taiwan; to contribute towards the bilateral investments, trade and cultural collaboration between Malaysia and Taiwan and, thirdly, to regularly organize more events to unearth Malaysian talents in various fields

He also feels that Taiwanese enterprises still remain confident in the business and investment environment in Malaysia.

Since its inception, MayCham has put in large amount of time and efforts in building unity for Malaysians in Taiwan. Events such as Job Fairs, Malaysian Nights, arts and cultural festivals, youth leadership programs and exchange dinners with Members of Parliament and MFTC have all become regular events under the support of MayCham, making MayCham a strong platform to connect Malaysians in Taiwan.