拿督劉康捷理事長榮任中華民國全國商業總會顧問
2019-04-17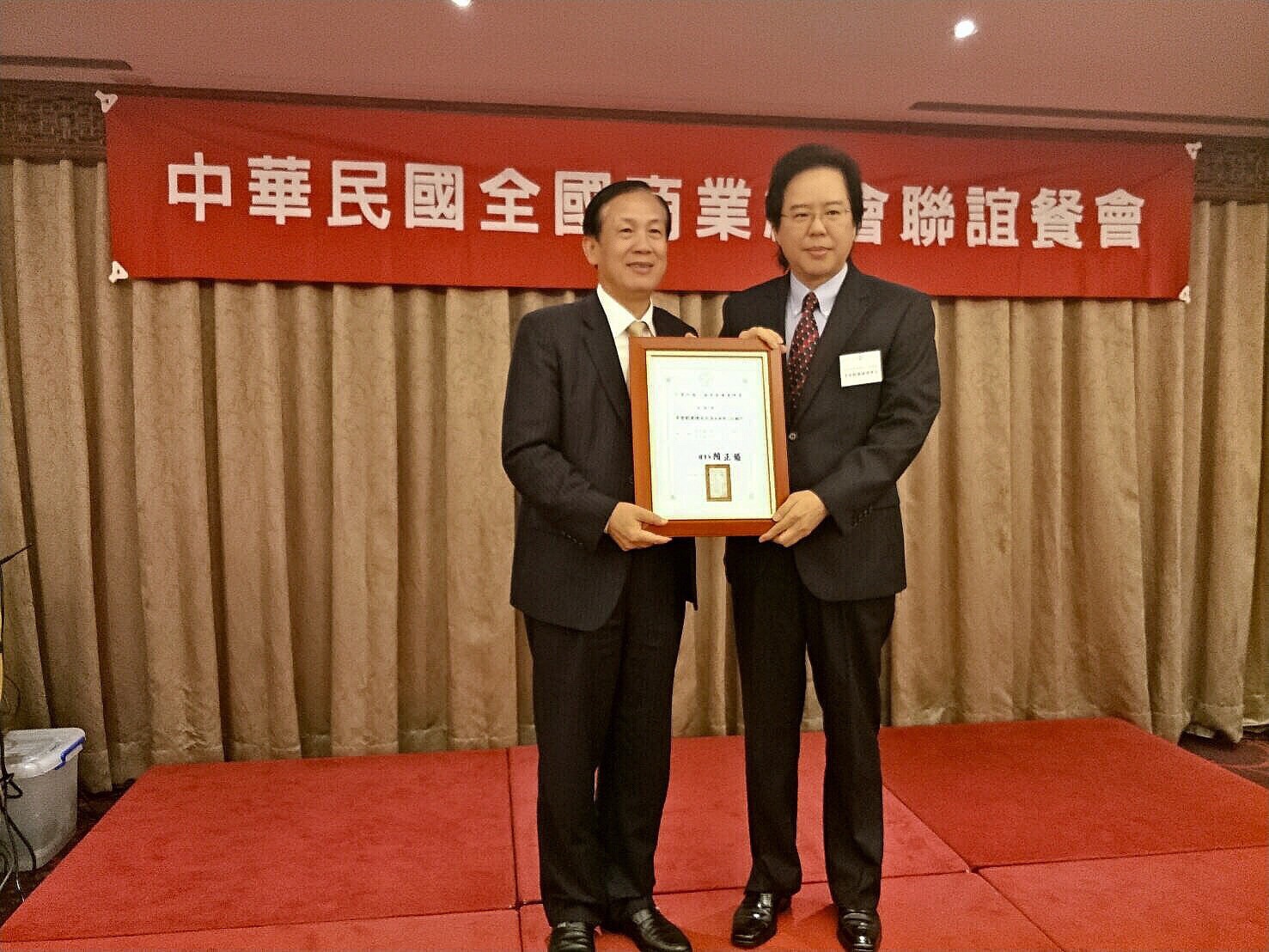 左起: 中華民國全國商業總會賴正鎰理事長、拿督劉康捷理事長
(From left: Lai Cheng-I, Chairman of ROCCOC and Datuk James Lau, President of MayCham)

中華民國全國商業總會(General Chamber of Commerce of the Republic of China)簡稱「商總」,是中華民國商業界的最高組織。做為政府與民間企業之間橋樑,配合政策辦理政府委託服務事項,對於全國商業界之業務發展,社會之福址以及國家經濟之繁榮,貢獻卓著。
日前本會劉理事長受邀出席中華民國全國商業總會聯誼餐會,出席成員逾600人,冠蓋雲集,規模盛大。商總賴正鎰理事長並于會中正式聘任劉理事長擔任商總顧問,獲得全場熱烈的掌聲。
拿督劉理事長多年來對於馬台商務交流之推動與協助不遺餘力,更多次代表本協會受邀出席各項經貿交流與訪談活動,足見其代表性,本次獲聘為中華民國全國商業總會顧問,實為對於劉理事長於馬台商界長期耕耘的肯定與殊榮。
The General Chamber of Commerce of the Republic of China (ROCCOC) is one of the top organizations in the business circles of the R.O.C. It acts as the bridge between the government and the private enterprises, and performs services entrusted by the government based on its policies. They have made a great contribution to the development of all national businesses, social well-being and the national economical growth.

Datuk James K.C. Lau, President of Malaysian Chamber of Commerce and Industry in Taipei (MayCham) was invited to the banquet hosted by ROCCOC a few days ago. Lots of dignitaries were present at this spectacular banquet, which was attended by more than 600 guests. Chairman Lai Cheng-I officially appointed Datuk President James Lau as the Counselor of ROCCOC at the banquet. This announcement was highly acclaimed by all the attendees.

Datuk President James Lau, on behalf of MayCham, has spared no pains promoting and assisting in the business networking between Malaysian and Taiwan over the past years. With his recognized significant role, he has been frequently invited to various kinds of economic and trade exchanges and interviews. This Counselor appointment of ROCCOC fully attests to the recognition and honor accompanied by his long-term efforts in enhancing the relationship between Malaysia and Taiwan.